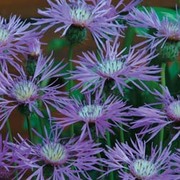 £2.19
Easy to grow annual which produces tall stems clothed with large, attractive, purple-mauve flowers, adding height to borders and ideal for cutting. Spectacular sown en-masse in drifts and will flower all summer long until the first night frosts of autumn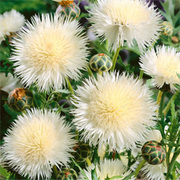 £2.99
Amberboa 'The Bride' is an easy to grow annual with large, sweetly scented flowers in purest white. This stunning white cornflower is perfect for cutting and makes a lovely plant for filling gaps in summer borders. Height: 60cm (24"). Spread: 30cm (12").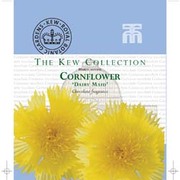 £2.09
Beautiful, large, sweet scented flowers of a gorgeous golden yellow, a new and exciting colour which we have not been able to offer on its own before. Perfect for cutting and a very easy and lovely plant for bedding or borderHeight: 45-60cm (18-24in)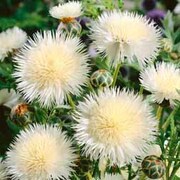 £9.99 - £14.99
This beautiful 'Brideis a giant creamy yellow cornflower with a distinctive, sweet fragrance. Enjoying a bit of a revival this year, so plant some up and follow the trend - they're so easy to grow!